WriteMovies Writing Tips – Robert McKee and being secure as a writer
"Secure writers don't sell first drafts. They patiently rewrite until the script is as director-ready, as actor-ready as possible. Unfinished work invites tampering, while polished, mature work seals its integrity." – Robert McKee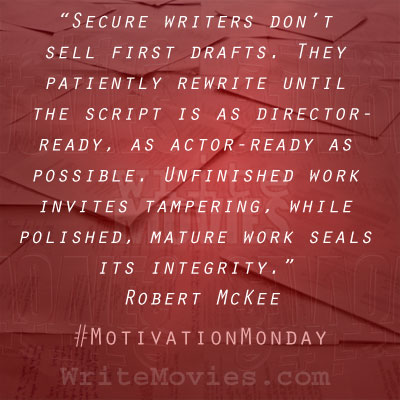 This is so true for everyone, especially those involved in our contests. For those of you who missed out on the Semi-Finals last week, this is your chance to go back to your script and get it as "director ready, as actor ready" as possible. No script we receive in our contests is the finished article, and our consultancies can help you figure out why your script is placing where it is, and what improvements can be made next – but this shouldn't be something to be anxious about, it's something to challenge yourself with, to come back next time stronger.
Even our eventual winners' scripts won't often be production-ready on their initial entry – there is always tweaking to be done, that's why we give winners a year of free script development. Our Director of World Wide Development Ian Kennedy says:
"I've always found that working as a producer and director and actor has made my scripts better, because the better you know what those professionals will need in order to realize your script into a production, the better you will write to fulfil those needs for them. And therefore the better you'll write, full stop!"
We can and will help both our winners and those of you who missed out to fulfil their script's potential. If we believe we can sell it for you, then we'll take it another step, and pitch it to the industry…
Share this quote from our Facebook page and our Twitter feed to inspire your writer friends, too, and to motivate yourself into getting your script as perfect as you possibly can. Hard-work is underrated, but so vital…
Exclusive to WriteMovies – To syndicate this content for your own publication, contact ian (at) writemovies dot-com.
© WriteMovies 2017