Summer 2017 Screenwriting Competition: Major international screenwriting contest…

**Semi-Finals date: October 20th.**
Hollywood might have had a downer this Summer, but you guys have made our Summer 2017 Screenwriting Contest HOT!
This batch of 51 scripts, books, and pilots made a great impression on our judges and we are so excited to get into these entries and decide on our Semi-Finalists for next week!
Thanks to all of you who entered – find out if you're one of the lucky Quarter-Finalists below…
The screenwriting quality was higher than we've seen in a long, long time at this stage of judging. So this was our toughest field in recent years for selecting Quarter-Finalists, and a number of promising writers have been very unlucky to miss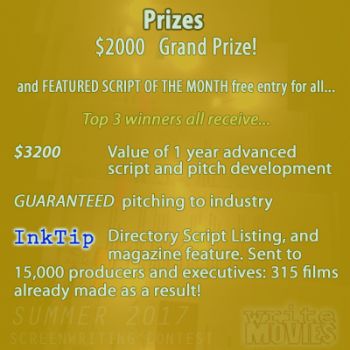 out – so don't get disheartened if you're one of them. If you'd like to know why your script performed as it did this time, and how to take it forward, commission a Script Report from us to get an analyst's eye on what's working in it and what's holding it back.
We provide hundreds of studio-quality Script Reports for writers and producers every year, to show them how the industry would currently rate and handle their script, and how to take them to the next level… Oh, and you'll get the chance to enter our Winter 2017 Competition early, too. Check out our website's new-look Mentoring section for all the ways that we can take you and your writing to the top!
Quarter-Finalists


IF YOU WALK AWAY, Scott A. Aiman
BLOOD RUNS DEEP, Nick Amatuzio
TWO BUCKS FOR BUFFALO BILL,
Nick Arvay
FOR LOVE OF COUNTRY, Tony Basso and Ron Basso
ARABESQUE,
Sasha Belousova and A. R. Baker
JEFFREY'S NATION, Carla Bester
THE DAWN OF EVE, James Bingham
LAKE, Ian Bonser
INSURRECTION, Simon Bowler
A BOY NAMED JUNE, Steven Bryson
THE 405, Patrick Byrne
SEEMINGLY HARMONIOUS, Dengxian Cao
DIAMOND BAR, Andrew Crane and Jay Pickett
SARIN AND THE MOON PRINCESS, David Cupples
BLACK JACK, Stephen Charles Curran
CIRCUS BOY, Stephen Charles Curran
THE MUSIC BOX, Stephen Charles Curran
INDUSTRY OF LOVE, Koen de Jongh
COLONIALS, Ian Fletcher
THE HEALER, Ken Floyd
SEA FEVER, Richard Guimond

WHISPERING WINDS (Novel), Richard Guimond
WHISPERING WINDS (screenplay), Richard Guimond and Linda Cordeiro
UNDERDEVELOPMENT,
Matthew Heinze
BLACK DIAMOND, Karen Marie Howland
NAPOLEON, Kevin Karp
TOUCH THE FIRE, Kevin Karp
CHARMER, David Kurtz
SPOONFED, Scott LaFortune
OWNER OF A LONELY HEART,
Rico Lara-Marin
KOPLEVA, Theo Leipert
MY SPACE LOVE, Christophe Lourenço
FACSIMILE, Gary Makin
THE FEDERAL HOTEL, Karl Mather
SIMPLEST TERMS,
Desiree Moshayedi
STRANGE CREATURES, Michael Neyland
THis OLD MAN, Nicholas Oktaras
THE MAIDSERVANT'S CAP,
Jeff D. Opdyke
SHINE YOUR EYES, Clint Pearson
SISTER TERRY, Mark Perlick
MOCK ORANGE, Joseph Ramsay
LAND THAT WE LOVE, Julian Renner
MATRICULATION, Mark J. Rose
WEST DAKOTA, Mark J. Rose
THE MICROCOSMIC CARTOON SHOW,
Prema Rose, Hugh A. Rose
and Suryananda Rose
FINAL STATUS, Timothy Jay Smith
ME AND JEZEBEL, Lucinda Spurling
 IT ALL COMES DOWN TO THIS,
Scott Marshall Taylor and Patrick Wiegers
ESCAPE TO PLANET B346, Thomas Thorpe
QUEEN OF HEARTS, Ethan Westgate
LEGACY OF THE GODS, Tim Wong