We are delighted to announce the Semi-Finalists for our Winter 2018 Screenwriting Contest.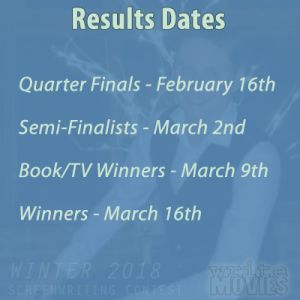 We are delighted to announce the 26 Semi-Finalists for the Winter 2018 Screenwriting Competition! Selecting the scripts with the strongest claim to join our winners has made for a tough but enjoyable task for us the past couple of weeks.
Check out the full list of 26 Semi-Finalists below.
Head on over to our Facebook page and our Twitter feed to congratulate the Semi-Finalists yourselves!
The final results will be announced in two weeks' time – Friday, March, 16th.
At this time, we try to only include scripts that we're still considering as a potential winner. Having made the Quarter-Finalists shows that a script or writer already has some clear potential, and a Semi-Final place means that with more development this script could become a contender. Keep that in mind as you think about what to do with your script next. These results should give you a good guide to the current state of your idea, writing and script.
Next, we refocus our attention to the book and television entries as we wind up to next week's TV and book awards announcement!
Here are the Winter 2018 Screenwriting Contest Semi-Finalists…
| | | |
| --- | --- | --- |
| | Semi-Finalists | |
| THE DAWN OF EVE, James Bingham | TO DIE IN TAJOUTE, Virginia Bola | INSURRECTION, Simon Bowler |
| THE OUTSKIRTS OF PARADISE, Montgomery Burt | WHEN THE WHITE DOVE SPEAKS, Al Case | VALENTYNE, Dashiell Finley |
| ENDANGERED SPECIES, Mark Flood | SHAKESPEARE OF AVON, James Hanson | MAGIC MAN, Norma Hickox |
| BLACK SHEEP, John Hunter | WHEN WE FALL BEHIND, Dan Hutchinson | NEW REALITY, Carolyn Kras |
| CHARMER, David Kurtz | THE LOCKSMITH, Jeffrey Morales | BAD DOG, Phil Olsen |
| THE CRAWL UP, Gabriell DeBear Paye | A SHADOW IN SPACE, Bryan Reilly | SAVIOR, Bo Sanders |
| STAR BLUE SOLDIER, Donahue Silvia | THE FOURTH COURIER, Timothy Jay Smith | THE FIRSTBORN, William Smith |
| SLAVE SHIP, Tyler True | LAST PRINCE OF WALES, Ethan Westgate | COLD FOOTED, Tanya M. Wheeler |
| THE REALM, Tanya M. Wheeler | | LEGACY OF THE GODS, Tim Wong |