We are delighted to announce the Quarter-Finalists for our Winter 2018 Screenwriting Contest.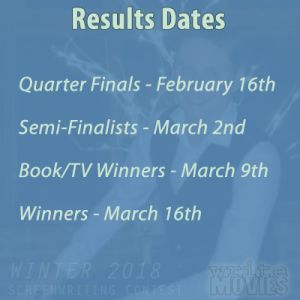 Since that Bonus Extension in January, we have had a lot of interesting and high-quality scripts to get through – but it's been another great judging period!
Congratulations to the 51 Winter 2018 Quarter-Finalists! All of them had some special spark that caught our eye and we're looking forward to giving them new eyes as we consider our Semi-Finalists and winners…
Those who didn't make it this time were an equally fascinating set of submissions too, and showed a lot of promising qualities. We hope that you will stay in touch with us: we're currently confirming details for our next contest and will keep you informed.
If you want to know why your script didn't make it, or where to take it next? Has a revised edition of your script come out short yet again? We recommend that you consider getting a mentoring service or consultancy, too. That way you can find out what we currently feel is holding your script back. And as a sweet bonus, you'll get free entry into our next main contest!
See the full list of Quarter-Finalists below…
Congratulate the Quarter-Finalists on our Facebook page and our Twitter feed.
| | | |
| --- | --- | --- |
| | Quarter-Finalists | |
| STRANDED, Christopher Andre | STEVE DEUCE, Justin Andreas | BUSHIDO BASEBALL, Charles R. Astone |
| MEGABALL$, Marc Baron | THE DAWN OF EVE, James Bingham | TO DIE IN TAJOUTE, Virginia Bola |
| INSURRECTION, Simon Bowler | THE OUTSKIRTS OF PARADISE, Montgomery Burt | WHEN THE WHITE DOVE SPEAKS, Al Case |
| ADIONA, Ian Causer | DEAD MAN'S HEAD, Ronald Ecker | ICE CREAM DON'T MELT IN ENGLEWOOD, Richard Ehrenreich |
| VALENTYNE, Dashiell Finley | ENDANGERED SPECIES, Mark Flood | THE OATH, Axel Gerand |
| SHAKESPEARE OF AVON, James Hanson | MAGIC MAN, Norma Hickox | BLACK SHEEP, John Hunter |
| WHEN WE FALL BEHIND, Dan Hutchinson | BOMMY!, Boim Hwang | A SECOND CHANCE, Manny Jimenez Sr. |
| MATANZAS, Piotr Kaszuba | NEW REALITY, Carolyn Kras | CHARMER, David Kurtz |
| TALK THERAPY, Thomas Moore | THE LOCKSMITH, Jeffrey Morales | PROJECT ΩMEGA, P. James Norris |
| BAD DOG, Phil Olsen | TREE HOUSE, Chris Ossman | FINDING ATLANTIS, Katherine Panzella |
| AMERICAN REBEL, Sydney Parran | THE CRAWL UP, Gabriell DeBear Paye | GATEKEEPERS TO THE STARS, Thelma Pickett |
| A SHADOW IN SPACE, Bryan Reilly | 2020AD, Mike Rogers | SAVIOR, Jerome Sanders |
| STAR BLUE SOLDIER, Donahue Silvia | THE FOURTH COURIER, Timothy Jay Smith | THE FIRSTBORN, William Smith |
| TIMBER, Patricia Stevens, Marian Mathews Clark | CUL DE SAC, Charles Stock | SOMETHING WICKED THIS WAY COMES, Charles Stock |
| SLAVE SHIP, Tyler True | THE VENUS SYNDROME, Lynee Vincentnathan | LAST PRINCE OF WALES, Ethan Westgate |
| COLD FOOTED, Tanya M. Wheeler | THE REALM, Tanya M. Wheeler | ISOLATION, Brian Whiteman |
| LEGACY OF THE GODS, Tim Wong | DISRUPTED, Meredith Wood | AMERICAN MYTHS OF BLACK & WHITE, Aaron Yarber |