Summer 2017 Screenwriting Competition: Major international screenwriting contest…

**Final Results date: November 3rd.**
Hey, it's been a tough one once again, but after judging the quality and viability of all our Quarter-Finalists, we've got it down to just 25 Semi-Finalists who go through to our final. Much respect to everyone who's made it – and for those who haven't, you made our decisions really tough!
Are you on of the top 25 writers from our Summer? Find out below…
A lot of the scripts that have missed out on our Semi-Finals and Quarter-Finals showed great potential, but got out-competed at this stage in their development. If you've not made it this time, use that as a cue to come back stronger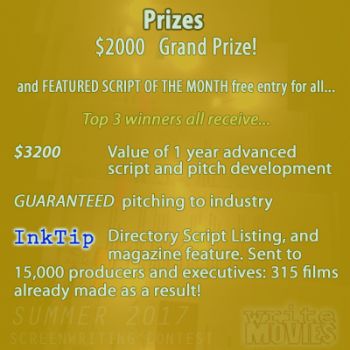 and with any problems or doubts in your script solved. Use the upcoming Winter 2018 Screenwriting contest (opening Monday) to come back stronger. Don't forget our studio-quality script mentoring services. Find out why your script placed where it did in the Summer contest, use the feedback and analysis to improve your project for the Winter Contest – which, by the way, you'll enter free with any mentoring service!
How about some new inspiration? Well just take a look around our site for all the latest news, buzz, and insight from the industry. What genre is strong at the box-office right now? What makes a top screenwriter? Use our new content to make your work relevant and stronger than ever!
| | | | | |
| --- | --- | --- | --- | --- |
| | | SEMI-FINALISTS | | |
| IF YOU WALK AWAY, Scott A. Aiman | TWO BUCKS FOR BUFFALO BILL, Nick Arvay | FOR LOVE OF COUNTRY, Tony Basso and Ron Basso | THE DAWN OF EVE, James Bingham | LAKE, Ian Bonser |
| INSURRECTION, Simon Bowler | A BOY NAMED JUNE, Steven Bryson | THE 405, Patrick Byrne | SEEMINGLY HARMONIOUS, Dengxian Cao | BLACK JACK, Stephen Charles Curran |
| CIRCUS BOY, Stephen Charles Curran | THE MUSIC BOX, Stephen Charles Curran | INDUSTRY OF LOVE, Koen de Jongh | COLONIALS, Ian Fletcher | SEA FEVER, Richard Guimond |
| WHISPERING WINDS (Novel), Richard Guimond | BLACK DIAMOND, Karen Marie Howland | NAPOLEON, Kevin Karp | CHARMER, David Kurtz | SPOONFED, Scott LaFortune |
| MY SPACE LOVE, Christophe Lourenço | STRANGE CREATURES, Michael Neyland | MOCK ORANGE, Joseph Ramsay | FINAL STATUS, Timothy Jay Smith | QUEEN OF HEARTS, Ethan Westgate |